So here's the thing…the tasting room is getting busier and busier each week. This is due, in large part, to our neighbouring wineries who send guests to us every day. I would hazard a guess that at least 50% of our guests have been sent by another winery recommending us. We could never have envisioned such a welcoming community! We are very grateful to the other wineries but also to the many of you who have stopped by to taste our first five wines and, perhaps, purchase a bottle or two. Now, it is time to release our sixth and final wine for our first season – we call her Gorgeous Gamay. She is a Beaujolais-style wine, light garnet in colour but oh so flavourful on the palate. The wine only spent eight months in barrel so there is little "oakiness" – just bright cherry and humming acidity that is sure to make you smile. We have only produced 120 cases for the 2017 vintage. We have priced this wine at $30 (tax included). We hope you will take the opportunity to visit us in the Okanagan to taste our Gamay. We have been experimenting with chilling it slightly during this hot weather and it is really quite refreshing!
This is a photo of the Gamay Noir hanging for the 2018 vintage. Look how plentiful the bunches are! I must say that the vineyard as a whole is looking really good. The grapes seem to be ahead of last year at this point and we have even heard talk in the neighbourhood that this could be a spectacular vintage! Our warm, dry May helped us get a good start to the growing season. Let's hope our weather stays nice and as we get closer to harvest, the rain holds off as days cool down.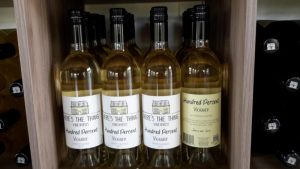 Well, it was bound to happen…we are approaching our first sell out. No, not our entire stock but the first of our wines – Viognier. As I write this, we only have 10 cases left so if you have tried it and like it, please come by and grab a bottle or two. Or, if you are not in the Okanagan, we can ship you some. Just give me a call or shoot me an email and we can arrange that for you.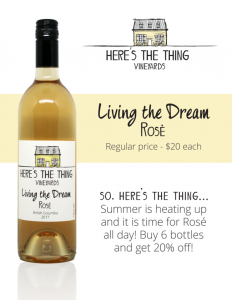 We have created some special pricing on our Rosé. As the summer continues in this heatwave pattern, a light, refreshing, dry Rosé is just what the doctor ordered. If you purchase six bottles, we will give you a 20% discount, taking the price of each bottle from $20 down to $16. I do love a good sale and with this weather, a Rosé sale is a very good thing. Again, if you are not near the winery, we can easily ship it to you.
So, I have mentioned several times already that we can ship anywhere in Canada – the furthest we have shipped so far is St. John's NFLD. That took some time but our lovely guest Eli was very patient. We have not developed a wine club this year and so, if you cannot make it to Oliver, we will make the wine come to you. We use a shipping company that has temperature controlled trucks so your wine will arrive in great shape.
We hope you are having a great summer and we hope to see you in our tasting room!